Hendelser På Nyhavna - 15 June 2019
We conducted tree projects:
Hendelser På Nyhavna - 11 June 2016
In 2016 the Making Is Thinking masters studio collaborated with Cirka Teater, Trondheim Municipality (En Blå Tråd) and Trondheim Havn (harbour owner) in initiating a large scale event for and in the Nyhavna area in Trondheim, an industrial port area characterised by buildings from the second world war. Over 50 cultural actors active in the area contributed the event, under the leadership of Eileen Brandsegg, from Bylivsutvikling. Making Is Thinking aimed to make a positive contribution to the discussion of the city's development by putting the cultural activity at Nyhavna on the agenda. In order to achieve this, Nyhavna had to be turned inside out - revealing all the activities that normally happen behind closed doors. The amount of media attention that the event received, helped lead to a decision by the Municipality to maintain cultural activity at Nyhavna as one the main foundations for development in the area.

Other collaborators that helped make Hendelser På Nyhavna possible include: Stillcom, financial support from Norsk Kulturfond, KORO, Sør-Trøndelag Fylkeskommune and Trondheim kommune.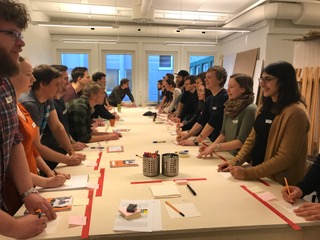 #kulturrom documentary videos
Promotional video giving a 'sneek-peek' of the 'happenings' under Hendelser På Nyhavna.
Hendelser På Nyhavna was well documented and very well received by the public and the media. Here is a selection of just some of the articles/publications about the project.
A report/presentation of the activities of En Blå Trad (Trondheim Municipality)
Startskudd for Nyhavna ( Trondheim 2030, 21.06.2016)
Når barneteater driver frem byutvikling ( Periskop, 16.06.2016)
Viser frem hvordan Nyhavna kan unngå å bli et skrekkeksempel
( Adressa, 11.06.2016)
Arkitektstudenter vil ha mangfold på Nyhavna ( Adressa, 11.06.2016)
Kultur og byutvikling i Trondheim (NRK Nyhetsmorgen 10.06.2016)
Her blir det 69 arrangementer i helga ( trd.by, 10.06.2016)
Ingen bydel i Trondheim vi mener så mye om, men kjenner så dårlig ( Kommentar, Adressa, 09.06.2016)

Gjør om Nyhavna til eventyrfabrikk Adressa, 09. 06.2016)
Vil vise hvordan kulturen kan prege Nyhavna ( Adressa, 27.01.2016)
Spennende ting i emning på Nyhavna i 2016 ( Trondheim 2030, 20.01.2016)
En blå tråd gjennom byen, historien og inn i framtida (+Kote, 03.11.15)